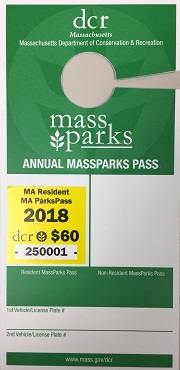 Purchase Your Annual DCR ParksPasses
The Massachusetts DCR ParksPass provides unlimited day-use parking at state park facilities that charge a parking fee. Fees range from $2 at day-use areas to $5 at inland water areas to $7 or $9 at ocean beaches. The DCR ParksPass is a hangtag issued for one vehicle with a sticker.
This pass is valid for one calendar year - January to December.
Select the ParksPass you want to purchase
Vehicle License Plate Number
is required
Have two vehicles? Purchase a second car sticker
ParksPass holders may purchase a "second car" sticker for $15.00. The 2nd car sticker will be affixed to the hangtag, and will permit a second family vehicle registration number/license plate number to be added, allowing annual ParksPass holders to interchange the ParksPass between the two family vehicles.
The second car sticker does not allow 2 separate vehicles to park at the same time.
Add the following items to your purchase (No Charge)
Your ParksPass sticker needs to be placed on a placard and put on the rear–view mirror. You only need one if you don't have one from your previous purchases.
Order the ParksPass as s gift? The Gift Message Card allows you to include a personalized message to your present.
Your order will be delivered to the mailing address under your account. Check and update your mailing address to ensure correct delivery before checking out your shopping cart.
Items will be mailed within 7 days